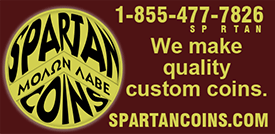 Buy Custom Coins > Custom Commemorative Coins > Legacy Coins
In this day and age there are very few gifts that I consider legacy gifts. What do I mean when I say legacy gifts? In my opinion a legacy gift is something that's easily passed down from generation to generation but may be more importantly it's a gift that will be equally cherished throughout multiple generations.
In 2012 I was fortunate enough to be involved in the design and manufacturing of a 50th wedding anniversary coin. This coin was an idea their Granddaughter came up with. They had enough coins made for the immediate family, grandchildren and great grandchild.
Custom commemorative coins are like no other gift in the world. They create memories while solidifying the occasion. They leave a lasting impression that time can't take away. Anyone who receives such a legacy gift will always remember why they received it, where they were when they received it and be reminded what the coin stands for.
Get your Free, No Hassle coin quote today!