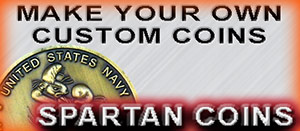 So you're looking to buy custom coins? That is fantastic news! You have just found the best place online to buy any and all types of custom coins.
Custom coins are the ultimate tokens of appreciation and are often used for commemorating an event, special occasion, milestone birthday or anniversary which would mean you're looking for custom commemorative coins. Perhaps you're an active duty United States Military service member or Veteran looking to create your own custom military coin or challenge coin. Regardless of the adjective you use to describe your coin, buy custom coins dot com is the most obvious place to get your custom coin order minted.
Our mission is to be the best custom coin maker online. We offer two distinct manufacturing processes which is kind of a complicated way to say we manufacture both die-cast and die struck coins. Our die struck challenge coins can be made out of brass, iron or copper but are usually brass based. Our die-cast coins are made using zinc alloy as the base metal. These coin types normally have a completely different feel weight wise so we offer additional thickness on our die-cast coins for NO additional cost.
Metal finish or plating and paint color are the final basic features we need to know about when providing you a free NO obligation price quote. All of our metal finishes are the same price. You can choose from nickel, antique silver, antique gold, shiny gold, shiny bronze and antique bronze. We also offer dual plated custom coins and in some cases triple plated coins. Please note that adding dual or triple plating will increase production time. Our paint color options include soft enamel and hard enamel primarily, however silk screening is available if necessary. Soft enamel and hard enamel do NOT carry any additional cost unlike silk-screening which will normally increase cost.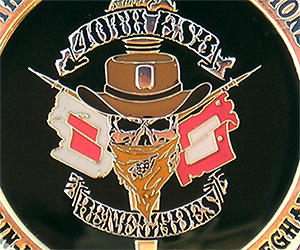 We make custom coins for everything and also manufacture custom lapel pins as well as other custom metal promotional products such as keychains. Our artwork service is always free with every order. Your satisfaction is our highest priority and that's why we offer a 100% satisfaction guarantee on the craftsmanship of every custom product we create. We will gladly replace any defective piece for NO additional cost to you.
Finally we offer a price match guarantee on orders of 100 coins or more. Simply email us the competing quote on official letterhead and we will match or beat that offer. Please be advised that our price match guarantee is offered solely at our discretion and may be removed or canceled at any time.
I look forward to working with you on all your custom metal product needs. Together we will come up with an outstanding finished product that will be a valued keepsake for many years to come.