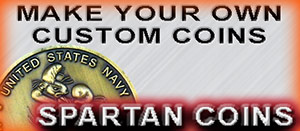 custom made coins > custom challenge coins
CustomChallenge-Coins.com is now BuyCustomCoins.com. Customchallenge-coins.com has transitioned to BuyCustomCoins.com effective April 20, 2016. This page is to pay tribute to what was and remind all of you that even though our domain name may have changed we still manufacture every type of custom coin. Custom challenge coins, custom military challenge coins and custom commemorative coins.
Why have I decided to make this change? The truth is I could never get customchallenge-coins.com to perform for me the way I had hoped. Furthermore I have a SEO company claiming that they can't get that website to rank because of duplicate content issues. I think they are making excuses but thanks to hindsight I can also see the errors of my previous logic.
I believe Buy Custom Coins dot com is more intent driven, shorter, easier to remember and just a better name in general than CustomChallenge-Coins.com ever was. I mean come on; it's like hey if you're looking to buy custom coins then why NOT buy custom coins from buy custom coins dot com. The logic and simplicity just jump off the screen.
Providing a great customer experience through interaction and service has always been my purpose. The reality is that every business that has customers is a customer service business first. I've always tried to do business with my customers the way I want people to do business with me.
I want to sincerely thank those of you who have done business with customchallenge-coins.com. You can expect the same great service and product quality on this website – buy custom coins dot com. All quote requests and orders will be taken through our SSL secured website spartancoins.com.
My name is RD Blackburn and I am the veteran owner and operator of this website. I am extremely blessed to get to be a part of people's lives through the design and manufacturing of custom metal products. Thanks for reading and I look forward to working with you.